Crucial Difference
When: Date: Feb 4, 2022 - Nov 4, 2021
Times: Committment approx 6 hours per week (28 weeks) 10am UK time, 18.00 Singapore time
Where:
Event Type: Event Listing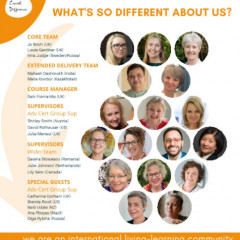 ---
About the event:
Looking to run a Supervision Group? Want to stretch and play with other experienced supervisors? And explore our own process through psychodynamic and complexity lenses?

Drop Jo a line for a conversation, just a couple of places left in this fabulous group of people who are up for noticing themselves 'in group'; understanding more about how groups move and change; and becoming more confident in the place of 'supervisor' within a group context...and much more!

International team...international group: a living-learning community, always in a state of becoming


What's similar and what's different?
Are you looking for training to become a supervisor?
Or maybe you are already qualified and looking for a new stretch?
If you want to be part of our growing international community connect with Jo Birch to discuss our courses.
---
Admission:
£2,995 for 28 week programme
---
Meet Julia :
Julia Menaul will be attending this event. If you'd like to meet up with her at the event please get in touch.