Coach Training Programmes for Managers
The largest growth area in training this century has been in equipping managers to use coaching skills in order to drive change. In our VUCA world (Volatile, Uncertain, Complex, Ambiguous) managers need to be able to engage and harness staff talent and potential like never before. Being able to coach and to approach all interactions with the people around them in a more inclusive consultative coaching style separates successful businesses from those who struggle to move with the times. Julia Menaul has been a training professional since 1991 and is highly skilled at designing and delivering down to earth training that creates real shifts in people's behaviours. Coach Training should always be delivered by experienced, accredited and qualified coaches to facilitate robust and real life feedback for participants, to a high industry standard.
Coach Training programmes can be tailored to suit organisational needs from 2, 3, and 5 days with optional accreditation via the EMCC (European Mentoring and Coaching Council). A commitment to value for money and evaluation of training means you will see a tangible return on investment. More importantly managers will not only be able to demonstrate key coaching competences but be empowered to break out of risk averse attitudes and long held habits and beliefs that stop them performing to their best. This is personal development as well as skills development.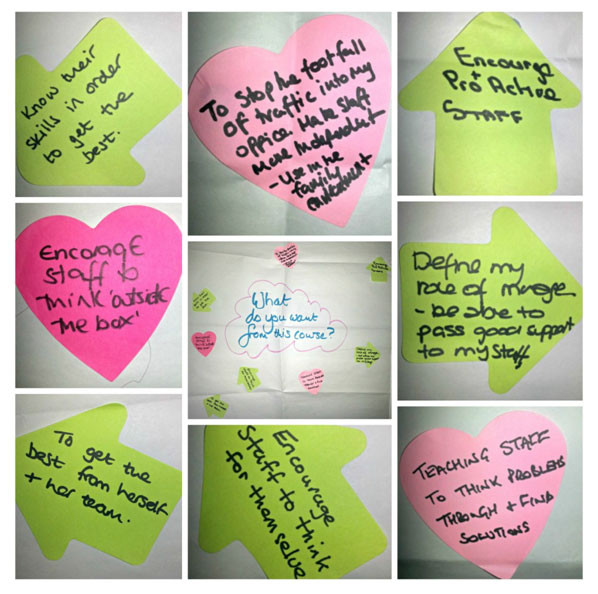 Clients share their course objectives before starting their Coach Training Session
Success outcomes from Coach Training Skills for Managers
No matter what length of programme you choose, your people will be able to show a core of the following success outcomes:
Demonstrate coaching skills on a daily basis with all direct reports in a less prescriptive and more consultative way.
Flex their coaching approach to use in formal and informal sessions either face to face for daily interactions, 1:1's, appraisals etc or "on the hoof" speed coaching or via the phone.
Develop staff using coaching techniques that encourage change, creativity and innovation not dependence.
Use coaching within work and outside to aid work-life balance.
Deal quickly and effectively with performance issues in the early stages.
Handle conflict in the workplace with greater confidence via honest conversations.
Self coach in order to identify their own personal obstacles to change and how to handle these.
Visit the Testimonial Page to see what managers and clients have said about Julia's highly regarded Coach Training Skills for Managers courses and programmes.